A tile roof will cost about $14,696 with average prices ranging from $7,257 to $22,135 in the US for 2021 according to HomeAdvisor. The average tile roof cost per sq ft is between $7 to $28 per sq ft depending on several factors. Your actual cost may differ based on choice of clay material, location of installation, and roof difficulty. A concrete tile roof will cost between $9 to $18 per sq ft. A clay tile roof will cost between $8 to $25 per sq ft. A terracotta roof will cost between $10 to $25 per sq ft.
Disclaimer – this is not a quote for your project. To get an accurate cost estimate for your tile roof call Right Way Roofing today to get an actual quote for your project today.
Homeowners can expect to pay between $120 and $250 a square for tile roof materials; for a 1,500 square foot roof, you will need at least 15 squares. Concrete tiles cost the least and, while clay tiles are more expensive. A lot of roofs switching to tile can expect to pay between $1,000 and $10,000 just in roof reinforcement alone, with labor fees costing between $7,000 to $10,000. The average homeowner with a 1,500 square foot roof can look forward to paying around $20,000 for a new tile roof.
Prep Work and Installation Considerations
While lightweight asphalt shingles can be installed on almost any type of roof, while tile can only be installed under particular circumstances.
Roof Pitch
Roof pitch is the rate at which the roof rises from its lowest point to its highest point. When installing a tile roof, they can only be installed on roofs with a pitch between 4 and 12. The roof will not drain sufficiently if the pitch is any lower.
Tile Weight
Tile roofs will also require a reinforced roof deck. For a lot of newer homes, this is less of an issue, but older homes that have a roof deck that maybe has been in place for years, and that may be sagging or have experienced some type of wood rot will need to be entirely replaced before a tile roof can be installed.
Tile Underlayment
A waterproof underlayment, and high-quality plywood, nails, and flashing are all necessary. These materials can add to the final cost of the roof installation. Also, chimneys, solar tubes, and vents in the roof will require watertight flashing.
Removal of Old Roofing
Installing a new tile roof will require the old roof to be removed entirely. You cannot layer tile shingles over an existing material; it has to come off. When the old material is removed, you reveal the roof decking. This will let the roofer see how well the deck can hold the new material structurally, and if the roof deck will need repair, replacement, or additional materials to hold the new tiles.
Weather
While roofs may work in all climates, tile roofs are more difficult and time-consuming to install than a shingle roof. As a result, it's usually accepted that the roof is installed done during warm, dry weather. The most common time of year for installation on a roof is late summer through the fall, before heavy rains and wind. Being that the roof deck will be exposed for at least a couple hours before installation can start, a low-wind, dry day is essential for proper the roof tile installation.
Average Cost of Different Tile Styles
Spanish Tile – $2.00 to $4.00 per square foot.
Scandia Tile – $2.00 to $4.00 per square foot.
Double Roman – $2.25 to $4.80 per square foot.
Flat Shake –$2.29 to $2.49 per square foot.
Pantile – Average cost: $2.50 per square foot.
Barrel Tile – $3.00 to $6.50 per square foot.
French Tile –$3.20 to $3.90 per square foot.
Riviera –$3.00 to $5.00 per square foot.
Roofing Labor
Labor and installation on each tile roof may be slightly different from the next. This is due to several factors:
What type of material is on the roof and needs to be removed.
What condition the roof deck is actually in.
If the deck needs to be strengthened to support the weight of the tiles.
What material the tile is made of.
The installation style of the tile.
Edges, roof lines, and intrusions in the roofing (chimneys, skylights, attic fans, etc.).
Therefore, every tile roof installation may slightly differ giving you a very unique roof. Nearly every roof installation will include an inspection, as well as removal of the current material. If the deck needs reinforcement or repair, this is the time to do it, before the installation of the underlayment, which will protect the deck from moisture and provide a surface for the tiles to be installed on. The intrusions will be now flashed and sealed, now the tiles are installed on the roof, followed by the installation of the edge and ridge caps.
Sealing
Some types of tile roofs will need sealing. Some tiles roofs will require resealing 5 to 10 years later; your roofing contractor will let you know if this is necessary. Roof tile sealants usually cost about $20 to $30.
Additional Roofing Costs
There may be some additional costs that come with installing a new tile roof not included in the installation. Some of these include:
Cost to clean tiles periodically
Sealing and treatment of tiles
Tile inspection quotes
Chipped or broken tile replacement
Out of state tile shipping cost
How Much Does Roof Tile Replacement Cost?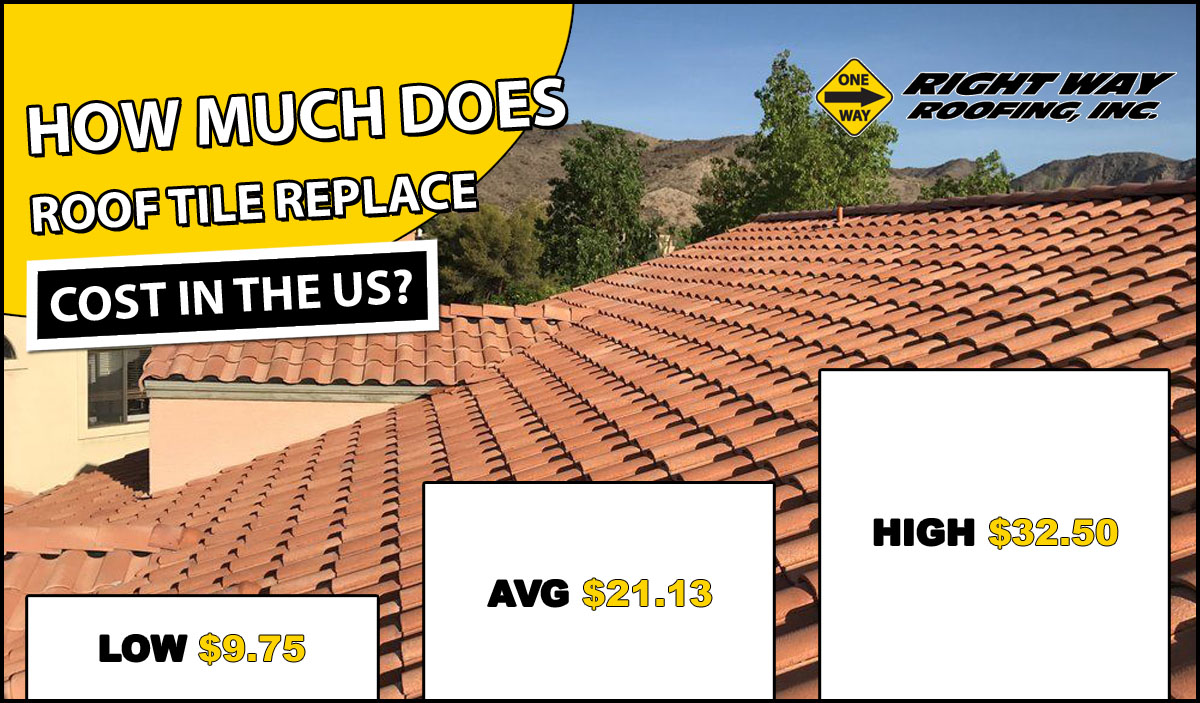 Roof tile replacement costs about $21.13 with average prices ranging from $9.75 to $32.50 in the US for 2020 according to HomeAdvisor. This estimate includes the cost of disposal, materials, installation, and underlayment replacement.
If you live in Mesa, Chandler, or the surrounding cities in the Phoenix area and need a new tile roof; Right Way Roofing, Inc. can help! We offer residential roof installation and commercial roof installation in Phoenix & Mesa, Arizona. Contact us Today!
RIGHT WAY ROOFING IS A RESIDENTIAL AND COMMERCIAL ROOFING CONTRACTOR LOCATED IN PHOENIX ARIZONA
Call us TODAY! East Valley: 480-232-5458 or West Valley: 602-299-8851