When you're searching for quality flat roof repair or flat roof leak repair in Phoenix, Mesa, Tempe, Chandler or any of the other cities in the Phoenix Metropolitan area; Right Way Roofing is here to help!  As a flat roofing company we know how to repair a flat roof the right way and provide the best flat roof repair costs.  We are proud to offer flat roof installation, maintenance, and flat roof replacement to the business and homeowners across the Phoenix Valley.
Read more about the flat roofing services we provide and call to schedule at: Common keywords used to find our flat roof repair service include: flat roof repair, flat roof leak repair, flat roofing company near me, how to repair a flat roof, and flat roof repair costs.
(East Valley): 480-232-5458 or (West Valley): 602-299-8851


FLAT ROOFING REPAIR IN PHOENIX:
Proudly Serving the Entire Phoenix Valley
We provide all types of flat roof repair services to help get your roof back in great condition. See below for our list of repair services.
Flat Roof Repair Services
Flat Roof Inspection

Flat Roof Leak Repair

Repairing /Replacing Foam Roofing

Repairing /Replacing Rubber Roofing

Repairing /Replacing Plywood

Resealing Seams

Replace/Repair Metal Flashing

Skylight Repair

Reapplication Of Roof Sealant

Underlayment Repair
Types Of Flat Roofs We Repair
Build Up Roofs or BUR

Shingles Roofing

Modified Bitumen

PVC Roofing

Cool Flat Roofing

Rubber Membrane

TPO or EPDM

Metal

Spray Coating
Flat Roof Leak Repair
Do you have a flat roof leak? If so, Right way roofing provides flat roof leak repair services to fix that leaky roof. We know the most common places where leaks start and can help inspect what be causing your roof to leak.  Our team finds these problem areas quickly and then provides an affordable quote for your leaking flat roof.  We use the highest quality roof repair products and methods to ensure you've got durable repairs.
Most Common Flat Roof Problems
Over time or after storms roofs can have damage. Strong winds can pull at roofing materials and branches falling from trees can puncture the surface of the roof. All roofs including flat roofs need maintenance from time to time. Right Way Roofing knows the right way to repair your flat roof and can help you detect leaks, recommend affordable repairs, and provide durable and reliable repairs. Here we list the most common problems involved with flat roofing systems.
Polyurethane Foam Roof Problems
A lot of homes in the area have foam roofs; these are typically made from polyurethane foam. Polyurethane foam roofs also can experience degradation from time and wear. If the acrylic coatings used to seal the foam are compromised it can lead to leaks through the foam and into your home. These roofs can also be damaged by excessive traffic on the roof or if things puncture the roof when items fall on it. If technicians are working on the roof and screwdrivers or other tools are dropped it can puncture the layers and cause leaks through the roofing material.
Our roofing technicians are highly trained in foam roof repair and can help seal up the leaks and return your roof to be the waterproof barrier you need it to be.
Modified Bitumen Roof Problems
Another popular type of flat roofing is modified bitumen. This product is similar to BUR roofing systems in the use of combined layers of bitumen and felt yet differs in the fact that these layers are made in the factory instead of applied individually on the roof. Problems with modified bitumen can range from punctures, blisters, and seam defects. Age and abuse from foot traffic and technicians working on the roof can cause damage that leads to leaks.
Our roofing team can help seal up these issues or replace roofing to help protect the interior of your building or home. No matter the type of roofing material we can help repair your roof.
Flat Roof Inspections
The first sign most homeowners have that there is something wrong with their flat roof is a leak. The yellowing of ceiling materials or dripping water are unmistakable signs that there is a problem. Finding the leak can be tricky due to the properties of water. The entry point isn't always directly above the point where you find the water damage inside the house. Our highly trained technicians conduct detailed inspections of the roof and roofing materials to find the point of entry. They then are able to help guide you towards the most cost effective solution to have your roof repairs done.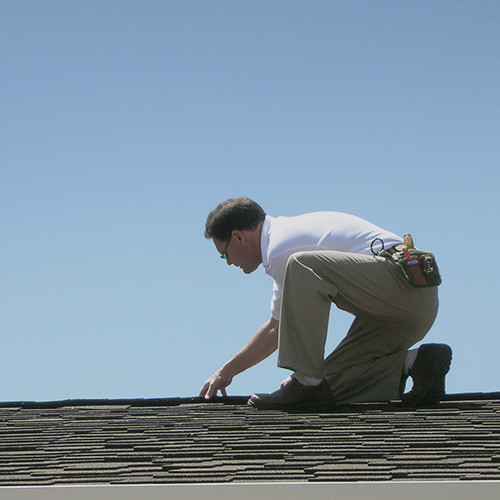 Flat Roof Installation
Looking to install a new flat roofing system? Right way roofing offer affordable flat roof installation services. Generally speaking, flat roof installation costs average between $250-$350 per sq ft. and come with warranties ranging between 10 and 20 years, but the flat roofing can last up to 25 years with proper care.
Flat Roof Replacement
Looking for roof replacement services to completely replace your old, worn out flat roofing system. We offer replacement services too! Give us a call today for more details about our replacement services.
Flat Roof Maintenance
There are certain areas of your that need to be maintained in order to keep your roofing system working at maximum efficiency. Roof maintenance will help us spot potential problems in these areas before they become major issues. Maintenance will help your roof last many years longer!
Installation Options:
TPO or EPDM
Metal
Built-up Roofing
Spray Coating
Modified Bitmen
Replacement Options:
TPO or EPDM
Metal
Built-up Roofing
Spray Coating
Modified Bitmen
Maintenance Options:
Water Ponding On Roof
Roofing Material Splitting
Blistering Roofing Material
Ridging In Roofing Material
Movement In Felt
Schedule Flat Roof Repair or Installation In Phoenix
If your flat roof is leaking our flat roof repair service will find the leak, offer affordable repair quotes, and provide long lasting solutions.  We take every precaution necessary to protect your property during the roofing process and you will find that our crews do a great job of cleaning up the work area each day.  Our service area includes: Phoenix, Gilbert, Chandler, Mesa, Tempe, Glendale, Peoria, Surprise and more.
Schedule Flat Roofing Services in Phoenix today by giving us a call at East Valley: 480-232-5458 or West Valley: 602-299-8851.
Contact us for any Roof Repairs or installations in Phoenix! 
Right Way Roofing is a Residential and Commercial Roofing Contractor serving the Phoenix Valley
Call us TODAY! East Valley: 480-232-5458 or West Valley: 602-299-8851
Summary

Service Type
Flat Roof Repair, Installation & Replacement
Provider Name
Right Way Roofing, Inc
,
E Willetta St
,
Mesa
,
Arizona
-
85207
,
Telephone No.480-232-5458
Area
Description
Right Way Roofing provides flat roof repair anywhere in the Phoenix Valley.