TILE ROOF REPAIR | GLENDALE
TILE ROOF REPAIR IN GLENDALE, AZ
PROUDLY SERVING THE ENTIRE PHOENIX VALLEY
When you are searching "Tile Roof Repair Glendale" Right Way Roofing is your source for the highest quality tile roofing, most experienced roofing repair team, and exceptional customer service.  Tile roofing is a great option for homes in Glendale and is one of the most common in southern Arizona.   All roofing types need repair from time to time, it is important to have a qualified roofing repair team perform the repairs, replacement, or installation for you.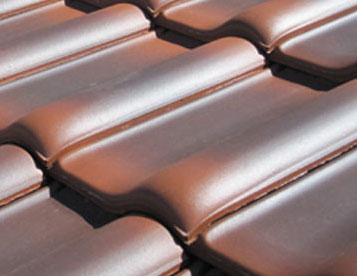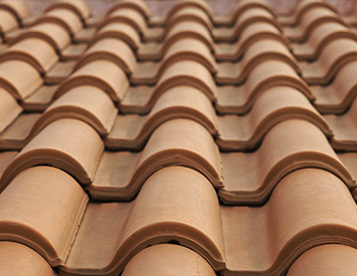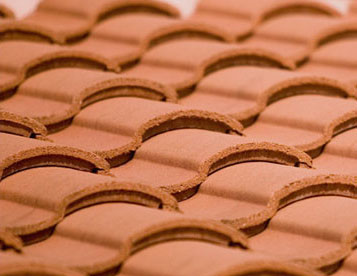 FOR SERVICE CALL TODAY AT 480-232-5458 (EAST PHOENIX VALLEY) OR 602-299-8851 (WEST PHOENIX VALLEY)
TILE ROOF REPAIR SERVICES
TILE ROOF INSPECTION
TILE ROOF LEAK REPAIR
REPAIRING /REPLACING PLYWOOD
RESEALING SEAMS
REPLACE/REPAIR FLASHING
SKYLIGHT REPAIR
REAPPLICATION OF ROOF SEALANT
UNDERLAYMENT REPAIR
TYPES OF TILE ROOFS WE REPAIR
BITUMINOUS (FLEXIBLE) TILE ROOFS
CERAMIC TILE ROOFS
COMPOSITE TILE ROOFS
CONCRETE TILE ROOFS
COPPER TILE ROOFS
POLYMER-SAND TILE ROOFS
TILE ROOF LEAK REPAIR
Do you have a tile roof that is leaking?  Right Way Roofing proudly offers leak detection and leak repair in Glendale.  Our experienced roofing team finds where leaks are and fixes them quickly.  Trust the pros for your tile roof leak repair service in Glendale Arizona.
MOST COMMON TILE ROOF PROBLEMS
Tile roofing has some common problems that are caused by age, wind, and weather.  These issues can be lack of maintenance and care that causes water to collect and pond, and leaks coming through the roofing.
One of the biggest tile roofing problems is poor quality tile roofing or improperly installed tile roofing. Another common issue is when tile roofing is walked on and tiles are cracked, broken, or kicked out of place.
Tile roofing is an excellent option for Arizona when it is installed correctly by experienced professionals and has the maintenance it needs.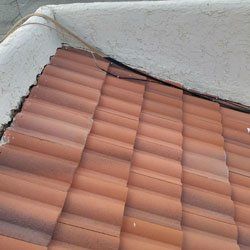 Tile Roof Problem – Roof Tiles Sliding Out Of Place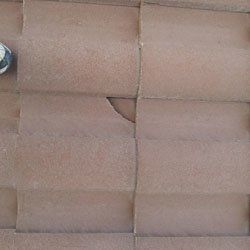 Tile Roof Problem – Cracked Or Broken Roof Tiles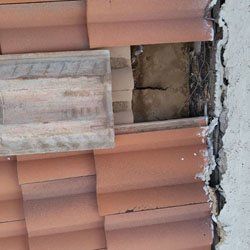 Tile Roof Problem – Damaged Roof Underlayment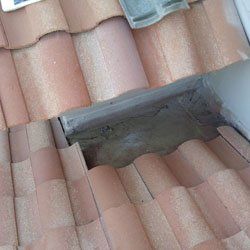 Tile Roof Problem – Dead Valley Buildup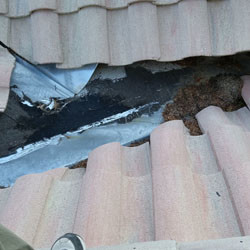 Tile Roof Problem – Dead Valley Cracking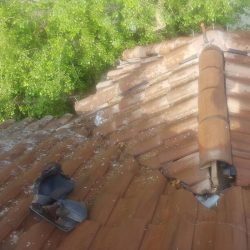 Tile Roof Problem – Debris On Tile Roof & Missing Tiles
Tile Roof Problem – No Bird Stop Under Tiles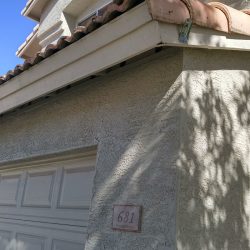 Tile Roof Problem – No Birdstop Underneath Fascia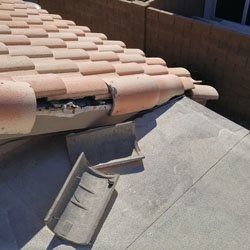 Tile Roof Problem – Rake Edge Tiles Falling Off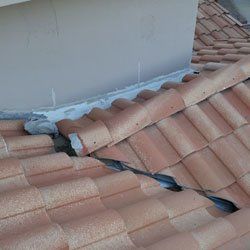 Tile Roof Problem – Roof Tiles Sections Out Of Place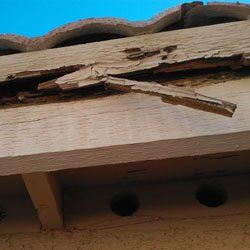 Tile Roof Problem – Rotton Fascia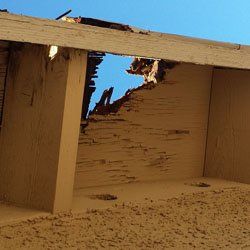 Tile Roof Problem – Rotton Plywood Under Eave
TILE ROOF MAINTENANCE
There are portions of your roof that need to be maintained in order to keep your system working at maximum efficiency. Roof maintenance will help us spot potential problems in these areas before they become major issues. Maintenance will help your roof last many years longer!
MAINTENANCE OPTIONS:
REPLACE TILES
CLEAN UP DEBRIS
FIX WATER LEAKS
UNDERLAYMENT REPAIR
REPAIR FASCIA & EAVE
TILE ROOF INSTALLATION
Looking to install a new tile roofing system? Right way roofing offer affordable tile roof installation services. Generally speaking, tile roof installation costs average between $400-$1,000 per square (100 sq ft.) and come with warranties ranging between 10 and 20 years, but the tile roofing can last up to 50 years with proper care.
INSTALLATION OPTIONS:
CERAMIC TILE
COMPOSITE TILE
COPPER TILE
SAND TILE
TILE ROOF REPLACEMENT
If you have old, worn, or poor quality tile roofing on your home or property we offer tile roof replacement services.  We tear off all of the old tile roofing and underlayment. Then we start by using the highest quality, longest lasting roof underlayment product available to ensure a solid foundation.  Next we install the style, type, and color of tile roofing you want for your home.
REPLACEMENT OPTIONS:
CERAMIC TILE
COMPOSITE TILE
COPPER TILE
SAND TILE
Tile roofing really does capture the color pallet, look, and feel of the southwest and helps our homes blend into the natural beauty of our desert landscape.  Common tile roofing types are sand-cast, clay, and concrete. Contact us today to learn more.
RIGHT WAY ROOFING PROVIDES GLENDALE HOMES AND BUSINESSES THE BEST TILE ROOF REPAIR, REPLACEMENT, AND INSTALLATION. TILE IS ONE OF THE BEST TYPES OF ROOFING FOR OUR AREA AS IT NATURALLY RESISTS HEAT AND ADDS THE ICONIC SOUTHWEST LOOK THAT IS POPULAR IN THE SOUTHWEST DESERT OF ARIZONA.
TILE ROOF VARIETIES IN ARIZONA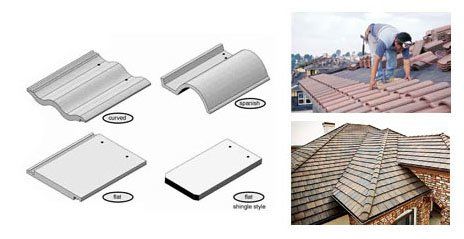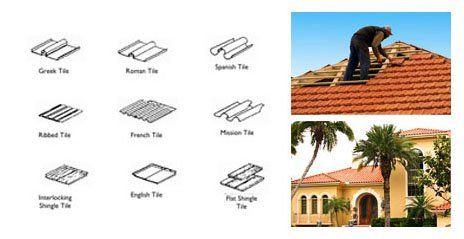 ADVANTAGES OF TILE ROOFS
LONG LASTING – Tile roofing is an incredibly durable roofing material and can last up to or more than 50 years!
THE LOOK – The southwest desert environment we all live in has hues of red and orange that tile roofing looks great against.  It helps your home fit into the landscape.
SAFETY – Tile roofing isn't flammable and isn't susceptible to insect infestations like wood roofing products.  This means homeowners with tile roofing enjoy better safety and avoid dealing with insect issues.
TILE ROOFING CHALLENGES
A SOLID FOUNDATION – Tile roofing weighs more than less durable alternatives and because of that your roof should be evaluated before tile roofing is chosen as an option.
If your roof isn't up to the additional weight a structural engineer will draw up plans of how to provide a solid foundation for the tile roofing to be installed on and we will carry out installing whatever reinforcements needed.  This step ensures that your home is protected from the weather and is ready to accept the additional weight of tile roofing.
COST OF TILE ROOFS
Choosing to install tile roofing is an investment in your property.  The lifespan and quality of tile roofing will long surpass alternative roofing options such as shingles. Due to the higher quality and durability of the roofing the installation cost is higher, but it will last considerably longer and increase the value of the property.  Invest in quality roofing and it will serve your longer and require less maintenance.
MAINTENANCE ON TILE ROOFS
Quality tile roofing rarely wears out, but the layer underneath it can and does.  This layer is called the underlayment and a lot of companies use cheap underlayment which might only last 8 to 20 years. We remove tile and replace underlayment with the highest quality and longest lasting underlayment replacement available to ensure you have the best tile roofing system possible.
SCHEDULE TILE ROOF REPAIR, INSTALLATION, OR REPLACEMENT
It's easy to get your tile roof repair services started with Right Way Roofing.  Call to let us know where you are and what kind of problem we can help you solve. We will come out and inspect the roof to find the problem, give you a quote for the repairs, and respect your property while we provide the highest quality and most durable tile roof repair, install, and maintenance services in the Phoenix Valley. Every precaution is taken to protect your home and your family during the process of repairing, maintaining, or replacing your tile roofing system. We keep our work areas clean which helps keep your property looking its best.
Schedule your tile roof repair in the Phoenix Valley by calling: East Valley: 480-232-5458 or West Valley: 602-299-8851.
CONTACT US FOR ROOF REPAIRS OR INSTALLATIONS ANYWHERE IN THE PHOENIX METRO AREA!
RIGHT WAY ROOFING IS A COMMERCIAL & RESIDENTIAL ROOFING CONTRACTOR SERVING GLENDALE & VALLEY WIDE
Call us TODAY! East Valley: 480-232-5458 or West Valley: 602-299-8851