BUILT-UP ROOFS BY RIGHT WAY ROOFING, INC.
Built-Up Roof Repair
Proudly Serving the Entire Phoenix Valley
Different Types of Built-Up Roofs in Arizona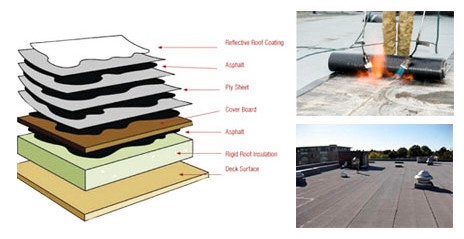 Build up roofing consists of three or more layers of waterproof roofing materials that have hot tar, gravel and ballast made from river stone in order to provide water proofing. These roofs are incorporating more and more advanced roofing materials and techniques as they originally consisted of only tar paper
Advantages: The presence of gravel is great for reducing fire risk. The most affordable of the flat roofing types.
Disadvantages: The heft of this roofing material may necessitate reinforcement of your house framing, mainly the joists, in order to be able to support this roof type. Installation is messy and smells bad which is why it is not recommended to have installed on buildings while they are inhabited.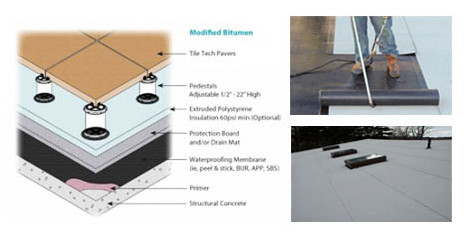 Modified Bitumen roofing is an impregnated single ply roofing material that comes in rolls, Modified Bitumen is very similar to ice and water resistant shielding with the addition of a mineral encrusted surface to reduce wear and tear on the top side.
Advantages: Easily installed and very DIY friendly for homeowners. The color of the mineral surface is kept light for the purpose of reflecting heat and sunlight away from your home, which can save you money on your monthly energy bill. This price for this material is middle of the road.
Disadvantages: Not recommended for occupied building because the torch-down application is a potential fire hazard. It's also not as tear or scuff resistant as rubber membranes roofing types.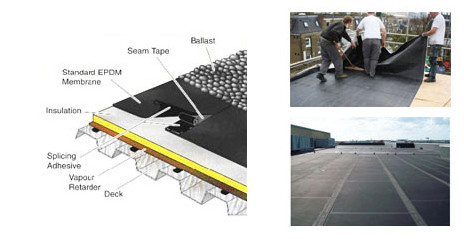 Rubber Membrane Roofs have inner tube like material that is very resistant to environmental damage and sunlight. This surface is long lasting and tough due to the properties of ethylene propylene diene monomer (EPDM) which it is made out of.
Advantages: Easy to install, also very DIY friendly. Light weight material, especially for the durability and elemental resistance attributes it carries. Easy to patch leaks.
Disadvantages: This is the most expensive type of built-up roofing. The black coloring of the rubber attracts heat and can heat up your home. Adding a lighter colored coat to reflect the sunlight and heat away from your home can add up to 30% to the cost of this material that is already more expensive than it's counterparts without any modification.
We take every precaution necessary to protect your property during the roofing process and you will find that our crews do a great job of cleaning up the work area each day.
Contact us for any Roof Repairs or installations in Phoenix or Mesa, AZ! 
Right Way Roofing is a Residential and Commercial Roofing Contractor located in Phoenix Arizona
Call us TODAY! East Valley: 480-232-5458 or West Valley: 602-299-8851