What Is The Best Roof Underlayment for Tile Roofs?
If you want the best for your home you want to know that every element installed is the highest quality. Underlayment is the foundation for roofing. A lot of homeowners ask, "What is the best roofing underlayment?" For years roofers have been using felt paper as a type of underlayment whenever a roof is being replaced. Felt has been a time-proven and even approved option for many residential roofing systems, but does it actually mean that it is the best for every single case? In order to answer this question, we have to understand just what type of options are out there for underlayment and the value that is provided. At Right Way Roofing, Inc. we use an extremely strong underlayment to ensure your roof lasts longer than typical tile roofs. Most roofing companies use a cheap underlayment that will wear out in under 20 years. Our roofing underlayment is the best roof underlayment for tile roofs in Arizona and will last much longer due to its high-quality and comes with a 30-year warranty.
Synthetic Underlayment
This type of underlayment was made to be a replacement for felt. It is woven together using a polymer and polypropylene, which is vapor resistant and water-resistant type of underlayment. This type of underlayment is stronger is lighter than felt.
Roofing Felt
Roofing Felt is a type of felt paper that gets soaked in asphalt and other types of water-resistant mixtures that are able to produce a membrane. This is a bit more technical, but that is the basic idea about how it works. Roofing felt is often sold in either 30# or 15# rolls that are about 36 inches wide. In the past, the 15# roll was actually 15 pounds, but as time went by it has changed.
Rolled Roofing Underlayment
For the longest-lasting roofs instead of using standard underlayment rolled roofing can be applied. This stand-alone roofing system increases the durability and lifespan of your roof.  This is by far the best roofing underlayment option.  It can be installed directly on the decking before virtually any type of standard roofing from clay tiles to architectural shingles.
Reasons for Underlayment
In order to really decide what type of underlayment is going to be best, you have to understand what underlayment is used for and what it is able to do and what it is not able to do:
Temporary protection if there is storm damage
Vapor protection
Protection from resins in the decking which can damage asphalt shingles
Water-resistant, but not waterproof
Not all roofs will have to have the best underlayment on the market, and not all budgets can afford it. Standard shingles do not need the same type of vapor protection that could be needed for slate or metal roofs, but steep roof installation is safer with a walking surface that is made with synthetic underlayment.
A very common misconception by a homeowner is that underlayment is actually waterproof and that their roof can leak if it isn't there. Even though the underlayment is water-resistant, it is not self-sealing, so water can get into every single hole that a nail has made. So, what underlayment is going to be best for your project?
Synthetic Underlayment
One of the main issues with using synthetic underlayment is the cost is more expensive per square foot when compared to felt. However, there are companies that have introduced new products that have competitive pricing and durability. Some of the biggest benefits for synthetic underlayment are:
Safer to walk on when installing shingles
Lays much flatter on the decking which prevents wrinkles that can happen when felt is used
Great for metal roofs
Vapor resistant and water-resistant
Stands up to high winds if shingles are blown off
Incredibly light
Roofing Felt
If you happen to be on a tight budget, then 15# roofing felt may be the right choice. Felt has been used for years and has really done well. Is there an even better option than felt? Yeah, but felt is still a really good choice. Also, felt has a really good fire rating and is very slow to burn.
How much will synthetic underlayment cost?
Most roofing quotes will use 15# felt as being the base option, so there isn't an additional cost when it comes down to felt. But, getting a good quality felt roll can cost between $25 to $35 for materials and will cover around 450 square feet. Synthetic underlayment can vary between the brands, quality, and job applications. Many residential asphalt shingle roofs can be done using products that cost between $175 to $200 per roll when installed, but each roll will cover around 1100 square feet. Yes, the price can be different based on how it is applied, so ensure that you get exact pricing for the upgrade.
Best Underlayment for Tile Roof in Arizona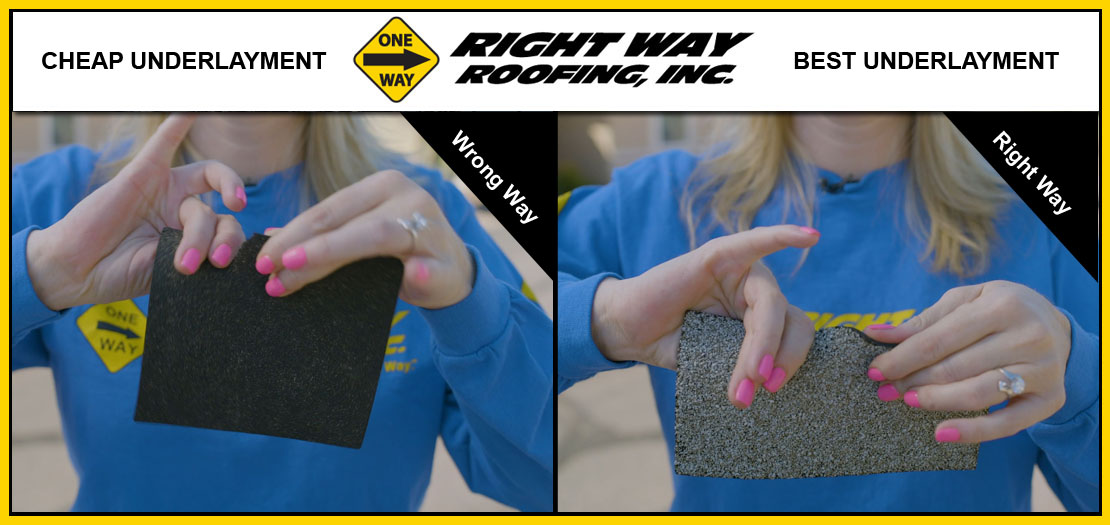 We proudly offer the longest-lasting tile roof repair service as we use the highest quality underlayment for tile roofs in Arizona.  The underlayment is what really protects your roof in the tile roofing system, not the tiles themselves.  The underlayment we use far exceeds the competition and can be used as a stand-alone roofing system.  This is why our repairs last longer than the competition and offer every one of our valued customers the biggest bang for their buck!
Average Cost To Replace Tile Roof Underlayment
Tile underlayment replacement costs about $436 per square across the US.
$436 x 24 squares = $10,464 average cost to replace tile underlayment
*These are not an actual estimate for your project, to get a free estimate contact Right Way today.
If your tile is still in good condition, we can still use it. We simply remove your current roofing tiles, replace the underlayment and put the same tiles back in place. This costs much less than replacing your entire roofing system. The average cost of removing and replacing roofing tile is about $300-$325 per sq in Arizona. depending on the roofing contractor you choose.
How Often Should I Replace Tile Underlayment?
The tiles on your roof will probably never wear out, however, the material the tiles rest on is susceptible to wearing out every 8-20 years and is difficult to reapply.
Other tile roofing companies use a cheap underlayment that rips and tears easily leaving you prone to roof leaks. Our tile underlayment is much better and can't even be torn by the average person. Our underlayment is much more durable, will prevent leaks and last much longer up to 40 years. We offer a 30-year warranty on our tile underlayment!
If you don't keep up with this process your roof will develop leaks and cracked tiles due to warping. The process of replacing the underlying layers involves hiring a roofing professional to come in and strip the tiles off of the material that needs to be replaced. The pro will then reapply the needed material and place the tiles back over the fresh material.
Tile Roof Underlayment Replacement in Arizona
Our team not only installs the best underlayment and roofing in the industry, but we repair old roofing too. Whether you just need some spot repair for missing tiles or shingles or a whole roof replacement, our team is here to help! Don't wait until your roof leaks during a storm and risk the condition of the interior of your home. Have yearly roof inspections and invest in the care of your home's roofing to protect your health and it's value! For more information about how to get the best roof repair in the Phoenix Valley please call 480-232-5458.
Most tile roofs leak when the layer under the tile is worn out or damaged.  This layer is called the tile underlayment and is the primary water repelling layer that protects your home. In a lot of cases the tiles simply need to be moved and a new layer of underlayment installed. We use the longest lasting underlayment which is strong enough to be a standalone roofing product.  This is much more affordable tile roof repair instead of tile roof replacement, where you buy all new tiles.
RIGHT WAY ROOFING IS A RESIDENTIAL AND COMMERCIAL ROOFING CONTRACTOR LOCATED IN PHOENIX ARIZONA
Call us TODAY! East Valley: 480-232-5458 or West Valley: 602-299-8851