Best Roofing Material Types 2018 (W/ Pictures)
The best roofing material type is typically slate or tile roofing, but it depends on where you live, your budget, and the style of home you own or are building.
There's a lot of types of roofing to choose from when building or repairing a home. With a little thought you'll be able to choose a great looking and durable options. In this post we will talk about the different types of roofing materials.
---
Different Types of Roofing Materials
Popular types of roofing include tile roofing, slate roofing, and of course shingle roofing.  Other options include shake roofing, metal roofing, foam roofing, rubber roofing, and the newest addition solar roofing.  This post discusses each option to give you an idea of what the strengths of each type of roofing are.
Tile Roofing
Architects and homeowners that have tile roofing have a timeless, high quality appearance. It's quite durable and affordable option for many homeowners. The good news is that tile roofing material comes in different types. This certainly means that different options are there to pick from. Below are a few of the options.
Asphalt roofing tiles are the most popular option in North America as they are long lasting, waterproof, and quite affordable.
Metal roofing tiles are heavy but quite durable.
Spanish style roof tiles are considered ancient style, descended from Rome.
Clay roof tiles are durable and strong.
Tile Roofing Advantages
Aside from the beauty tile roofing extrudes, there are many other advantages of choosing tile roofing material over the others.
Strong – Tile roofs can stand up to the elements better than most roofing types other than metal. They can resist earthquakes, hurricanes and Arizona's harsh monsoon season. Tile roofing is also fireproof like metal roofing is.
Insulation – Tile makes great insulation which helps keep your home cool in the summer and warm in the winter. Tile is also a great accent to complement the exterior of your home.
Foam Roofing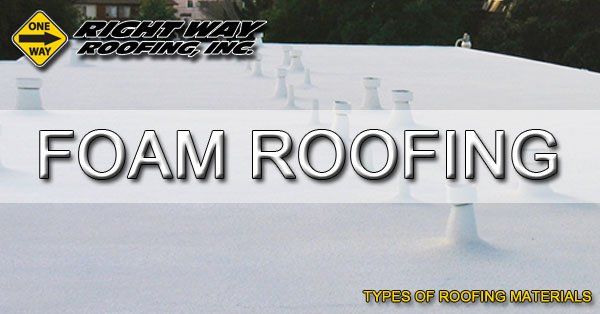 Foam roofing material has different benefits. The insulation is made from polyurethane foam and is applied as liquid. Once it is dried, it will create a single sheath that will cover the whole roof. The benefits of foam roofs are that there aren't any seams. This happens to eliminate the chance for water to seep into the layers of missing shingles which cause damage to the home from the attic and walls.
This particular material is used to make a foam roof is very lightweight and durable. The weight of this material is about 50 pounds for a square foot. Other types of roofing materials can weigh up to 500 pounds per square foot. Another benefit is that the foam insulation lets the home stay cooler.
<h3id="Shingle Roofing">Shingle Roofing
Shingle roofing is a very popular type of roofing material. This is due to the fact that is recommended by architects as well as contractors. Part of the popularity is that the shingle roofs will come in various patterns and designs that you can pick from. You will also not find as wide variety that you can pick from. This makes this roofing quite appealing.
There will be a time when the roof will need to replaced. Fortunately, they will last a long time, but not for forever. Mother nature can take a toll on your roof.
When people consider the options and look into hiring a roofing contractors, you will need to consider their experience. Ensure that you check that the contractor license is up to date.
Extremely hot weather may wear down a roof over years. Arizona weather can drastically change from hot to cold and then back to hot again. This type of weather will damage roofing material. Roofing contractors are aware of this and will offer sound advice on the roofing type that a home in Arizona may need.
Keep in mind that poor roofing could cause a lot of water damage during windy and rainy seasons. Keep the roofing tiles in top shape and save homeowners thousands.
Metal Roofing
Metal roofing isn't very common as others in Arizona, but it is still used for a various homes and businesses.  This durable material is also energy efficient that will save you money on your utility bills and protect your home for a lifetime. It will be able to withstand varying weather conditions, from extreme heat to monsoon storms. Metal roofing is attractive to many homeowners as there's different styles and it has great durability.
Metal Roofs Advantages
Last Longer – Metal roofs have been shown to last up to 70 years depending on the type of material used to construct the roof. Common roofing types only last about 12-20 years.
Stronger – Metal roofs are stronger than asphalt and can withstand monsoon like weather up to 140mph. They won't crack or corrode and have some impact resistance as long as you don't choose aluminum. Also, metal roof are very low maintenance.
Safer – Metal roofing won't catch fire if your home catches on fire. This save tons of money when it comes to fire remediation.
More Energy Efficient – Metal roofs deflect the sun so your home becomes more energy efficient and can save on energy bills by up to 25%.
Recyclable – Metal roofing material is created with up to 95% recycled metal, and can be recycled after no longer in use.
Solar Roofing Shingles
Solar shingle roofing is one of the newest types of roofing materials and is made up of photovoltaic cells, but looks like regular roofing. These shingles were introduced in 2005 are definitely more costly than regular roofing shingles but provide solar energy. The solar energy benefits of solar shingles can save you as much as 40-60% off of your electricity bill. Solar shingles could cost you $20,000 or more to install but state incentives can discount the cost as much as 50%.
Roof Installation Services in Phoenix
There are a lot of choices for roofing systems. It doesn't matter if it is a shingle, tile, foam, or metal roof, you will need to have a company that will take pride in their work and will only use quality materials. We have been providing roofing installation in the Phoenix area for years and installing them for longer.
RIGHT WAY ROOFING IS A RESIDENTIAL AND COMMERCIAL ROOFING CONTRACTOR LOCATED IN PHOENIX ARIZONA
Call us TODAY! East Valley: 480-232-5458 or West Valley: 602-299-8851