CONCRETE TILE ROOFING MESA
CONCRETE TILE ROOFING MESA
PROUDLY SERVING THE ENTIRE PHOENIX VALLEY
CONCRETE TILE ROOF INSTALLATION
If you have a home in Mesa or the greater Phoenix area Right Way Roofing can help with your roofing needs. Concrete roofing tiles are one of the most durable and attractive option for your home. We have experience installing all of the best concrete roofing materials and only use the best underlayment in the business. Using the highest quality materials with the best technicians and fastener technology delivers some of the longest lasting, most durable roofs in the state.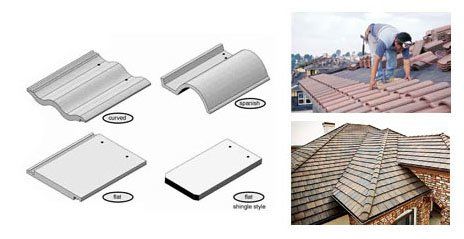 IF YOU ARE THINKING ABOUT CONCRETE ROOFING FOR YOUR HOME OR BUSINESS OUR ROOFING EXPERTS CAN COME AND HELP YOU COME UP WITH A PLAN AND QUOTE FOR WHAT IT WOULD TAKE TO REMOVE ANY OLD ROOFING AND INSTALL YOUR NEW CONCRETE TILE ROOF.
ADVANTAGES OF CONCRETE TILE ROOFS
LONG LIFESPAN – Concrete tile roofs are a tough roofing option and last about 50 to 60 years. That is about 30 years longer than simple shingle roofs. In fact the tiles themselves will typically last longer than the underlayment under them.
VISUAL APPEAL – Tile roofing captures the spirit of the Southwest with the natural coloring that stays true to the desert surroundings year round.
NATURAL INSULATOR – During the summer keeping energy bills down is more than a concern, it is a way of life in the Phoenix area. We invest in insulation in our attic and walls. Concrete tiles offer an additional layer of insulation for your home. Using light colored concrete tiles will reduce the load on your insulation and help keep your attic and home cooler. The more you control your attic temperature the less the vents in your attic are affected by the heat of summer or the cold of winter. This means the energy bills stay lower.
GREAT DURABILITY – While clay roofing tiles will last longer, they are more fragile. If you need to have people on your roof working on satellite systems or cleaning the chimney concrete roofing tiles are a better option. They also weather storms better than clay roofing tiles. The durability of the tiles is important because it only takes one broken tile to be the weak link. Concrete will resist cracking and breaking if it necessary for workers to be on the roof, or a big storm rolls through.
FIREPROOF ROOFING – Concrete tiles are not flammable. If your home does end up having a fire the concrete roofing tiles will help prevent the spread through the roof. They are not a flammable material and will help increase the time you have for the fire department to arrive and put out the flames.
SUSTAINABLE MATERIAL – Concrete is one of the best roofing materials when it comes to its effect on the environment. Producing the tiles leaves a small carbon footprint and the raw materials used are abundant and naturally occurring. Best of all the material is 100% recyclable. In 50 or 60 years the roofing will be able to be taken off and sent to a recycling plant to be reused as something again.
VARIETY OF COLORS – Concrete roof tiles are offered in a wide variety of colors and shapes. This makes it possible to customize the look of your roof to match the style of home and architecture. With the intense Arizona sun in Mesa concrete roofing will fade eventually. Clay does have an advantage in maintaining color when they are glazed. They will still fade, just not as much.
COST OF CONCRETE TILES – Tile roofs last longer than other roofing options. The cost between clay and concrete is significant. The difference per square foot of roof covered can be double for clay tiles compared with concrete tiles. That means a home that costs 15,000 dollars to cover with concrete tiles will cost 25,000 + for clay tiles. Concrete tiles give you the lifespan, color options, and cost less than clay.
CONCRETE TILE ROOF REQUIREMENTS
STRUCTURAL INTEGRITY – Concrete tile roofing is considerably heavier than other building materials. The need to reinforce your roof is near obligatory to safely install and support your tile roof. The framing inside your attic may not have been designed to support the weight and will need some work before we can install you concrete tile roof.
Installing a concrete tile roof involves hiring a structural engineer and crew in order to assess and apply the necessary reinforcements. This is a cost that will be worked into quotes for new roofing projects.
MAINTENANCE ON CONCRETE TILE ROOFS
The tiles on your roof will typically last a lifetime and never wear out However the material under the tiles called the underlayment is susceptible to wearing out every 8-20 years. Homeowners should either do visual inspections of their roofs or have roof professionals do inspections at least once a year. Neglecting this process will leave you vulnerable to leaks and cracked tiles due to warping. The process of replacing the under lying layers involves hiring a roofing professional to come in and strip the tiles off of the material that needs to be replaced. The pro will then reapply the needed material and place the tiles back over the fresh material.
RIGHT WAY ROOFING IS A RESIDENTIAL AND COMMERCIAL ROOFING CONTRACTOR LOCATED IN PHOENIX ARIZONA
Call us TODAY! East Valley: 480-232-5458 or West Valley: 602-299-8851