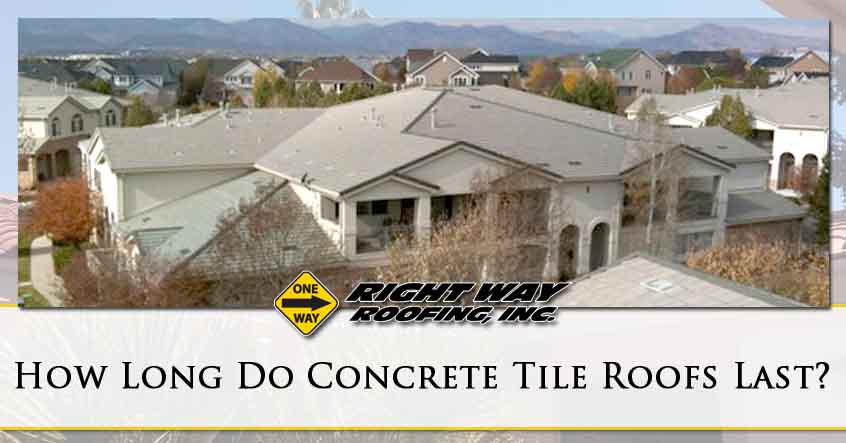 Concrete tile roofs last 15 to 50 years depending on how they are installed, the quality of the tile, and if they are maintained properly.
Concrete tile roof lifespan has two parts, the tiles and the underlayment. Completely replacing your tile roofing is expensive.
A lot of homeowners want to know tile roof underlayment replacement cost as it will restore the roof for much less.
How Long Do Tile Roofs Last?
Roofing is a competitive industry, which cause many manufacturers to find ways to make themselves unique by offering more than the other companies. The most recent marketing trend is lifetime tile roofs. These tiles are made from various materials like steel, concrete, and even clay. They are often sold in various colors and profiles, which include some that are supposed to look like wood shake. They are very attractive and can add value to your property.
It is known that clay and concrete are highly durable and quite resistant to weather elements such as sun and rain. Concrete has been around since the age of the Romans, and baked clay was used for shelter for longer than that. In Europe, roofs are often made of clay tile on many old buildings and are still being used as roof coverings. Manufacturers have begun to use these tiles as examples to lifetime roofing products. What does lifetime roofing actually mean? It is sometimes means that it has a useful life for the product or the life of the building.
Not Everyone Gets The Same Lifespan Out Of Tile Roofs
Recently, in Orange County, California there was a 30-year-old CID project that had found that they spent well over $400,000 to repair their lifetime concrete tile roof. There were some members that purchased their home straight from the builder and had found the brochure for the original sale that stated that they provided lifetime tile roofs. These members were very upset to find that the association had no reserve balance for any tile roof replacement. Their assessment showed it was about $12,000 per unit to be paid in 6 months and 100% payment was due before the project was started. The wood replacement, was discovered during the project that it was double the cost.
More CID properties have begun to find that they have no to low reserve funds for roof replacements, which results in large cash assessments or increased monthly payments. Sometimes, the board members have prided themselves in stating that they never raised the assessment on the property. They actually just passed the financial responsibility on to the new owner. Is that fair at all?
How Much Lifespan Does My Older Tile Roof Have Left
If you have tile roofs that are more than 25 years old, then they need to be evaluated by a roof professional in order to establish how much life they have left and to start into a roof plan. Your roofs will need to be at least reset with new flashings and underlayment while using old tile. That will depend on if the color and style is available to replace the amount that may be broken in the process. If not, then it would be time to consider a new tile. Either way, you will be dealing with major roofing work within the next 5 years. The good news is that you will have time to prepare for it.
So, is there actually a lifetime tile roof? It really depends on the definition.
Typical Lifespan Of Concrete Tile Roofs
The typical lifespan of a concrete tile roof is between 15-50 years depending on the quality of underlayment that is installed. The main components of weatherproofing will be the flashings and underlayment.
Many tile roofs are installed with standards that include low grade of underlayment and flashings. The standard underlayment has a life of about 25 years, depending on your climate. For instance, if you live in a desert area, it may be more like 15 to 20 years due to excessive heat. For coastal areas, it is about 30 years. For desert climates, flashing rust isn't as big of a problem as it is in a coastal region.
Many directors don't know what they don't know. They are very dependent on what is on the manufacturers brochure or what a roofer tells them. They need to get independent and accurate information before they make the choice to spend member's hard earned money. Life cycle costing is actually a vital part of that choice. Association directions need to remember they are spending someone else's money, and should apply the best business judgement rule.
The replacement roof needs to be customer designed for the climate with life cycle costing. Often times a 25% higher investment will give a 200% increase in the life of the tile roof. The roof design is a skill that needs experience and special training. The budget and design needs to be fully explored at least 5 years before roof replacement is needed. That gives plenty of time for project planning and funding.
When it comes to the lifetime tile, clay or concrete will last over 100 years, but with real weather elements, it will have a shorter life span. The closest that anyone can come to lifetime is to upgrade the flashings and underlayment and provide high quality installation. Be sure to review warranties for all materials especially what is excluded.
Just like each roof is different, crews and contractors are different as well. Pick your contractor carefully and provide them with custom specifications as well as a detailed contract. Be sure to obtain some assurance monitoring before you pay them. You may not get lifetime, but it is possible to hit 50 years or more for a tile roof.
Tile Roofing Done Right By Right Way Roofing
At Right Way Roofing, Inc we use an extremely strong underlayment to ensure your roof lasts longer than typical tile roofs. Most roofing companies use a cheap underlayment that will wear out in under 20 years. Our roofing underlayment will last much longer due to the high quality underlayment. Get a free tile roofing installation quote in your live in the Phoenix Metropolitan Area. We also service Mesa, Gilbert, Chandler, Glendale and more.