ROOF REPAIR SERVICES IN PEORIA, AZ
PROUDLY SERVING THE ENTIRE PHOENIX VALLEY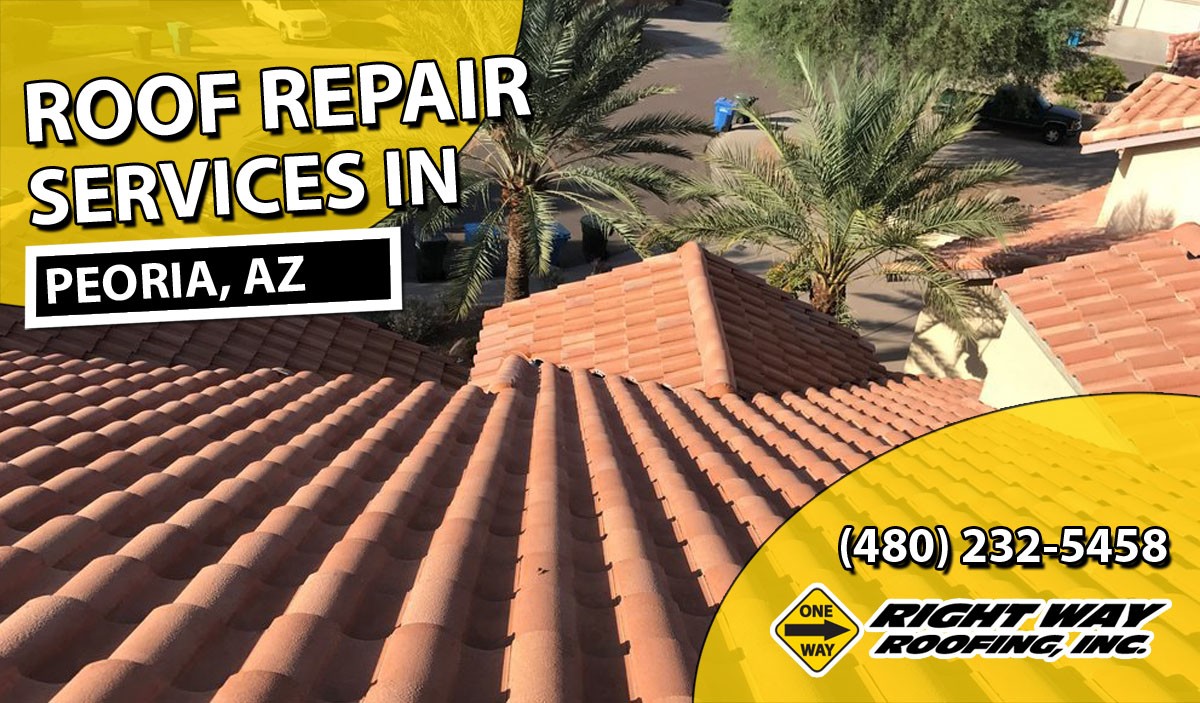 If you are searching for "Roof Repair", "Roof Leak Detection", "Roof Leak Repair", "Roof Inspection", "Emergency Roof Repair" or "Roof Repairs Near Me" in Peoria, AZ or any other city in the west valley, Right Way Roofing can help with the best and most comprehensive roofing services in Arizona. We are now offering roof leak inspection, detection, and repair, in West Valley Cities including Peoria, Sun City, and Glendale.
RESIDENTIAL ROOFING IN PEORIA, AZ
Residential homes usually have less worry concerning their design and tend to be easier to maintain, repair and replace. The roof of your home provides significant defense against water, weather, and other damaging elements. A new residential roof is an investment in your home that will pay in the long run. A lot of homeowners find that their new residential roof provides large energy savings year after year. Residential roofing also provides peace of mind for you, your family members and guests.
COMMERCIAL ROOFING IN PEORIA, AZ
Commercial and residential roofs differ in their design. A commercial roof tends to have a low slope or is completely flat and much larger than your typical residential roof. The design of a commercial roof has a couple of factors to consider like the weight of equipment that is on the roof and the need to cover a large area. Commercial roofs need highly skilled roofer services that are familiar with building around air flow systems, like A/C units, smokestacks, and external piping.
Peoria, AZ is a great place to live and do business but its not all fun and games if you have a roof problem. Roof leaks usually happen when wind high winds or heavy rains hit the west valley of Phoenix. Any possible roof leak should be inspected without delay. We detect roof leaks as well as inspect them to help pinpoint where your leak is located so we can give you the best options for repair to make the process as affordable as possible. Whether you need inspection of your roof for a leak, need to meet requirements for insurance or construction compliance, you can trust the roofing professionals at Right Way Roofing, Inc.
FLAT ROOF REPAIR
TILE ROOF REPAIR
COMMERCIAL ROOF REPAIR
EMERGENCY ROOF REPAIR
SPRAY FOAM ROOF LEAK REPAIR
RESIDENTIAL ROOF REPAIR
SHINGLE ROOF REPAIR
AND MORE…
ROOF LEAK REPAIR IN PEORIA, AZ
Undiscovered water damage in your attic as the result of a roof leak can have big consequences if they are not detected and repaired quickly. Water damage repairs are often expensive and in certain situations can take months to restore. Roof leak repair helps you to avoid, not just water damage but also, mold and mildew issues, wood rot, drywall damage and more. Right Way Roofing Inc. provides quality roof leak repair services designed to maintain your roof in first-class condition. Roof leak repairs need the expertise of experienced roofing professionals. At Right Way, Roofing Inc. we have you covered! No matter what kind of roof you have, whether it's on a residential or commercial property – we have the know-how to fix roof leak fast at an affordable price. Our professional roof leak repair services including the following.
COMMERCIAL ROOF LEAK REPAIR
EMERGENCY ROOF LEAK REPAIR
FLAT ROOF LEAK REPAIR
FOAM ROOF LEAK REPAIR
RESIDENTIAL ROOF LEAK REPAIR
SHINGLE ROOF LEAK REPAIR
TILE ROOF LEAK REPAIR
AND MORE…
FREE ROOF INSPECTION IN PEORIA, AZ
Do you need a roof inspection in Peoria, AZ? If your roof is leaking into your home, give us a call today or fill out our contact form on our contact page for a *Free Roof Inspection with one our expert and experienced estimators that will find your leak and offer a estimate to repair it. Don't get caught out having to find water buckets at the last moment when your roof starts to leak during the latest rainstorm. It is a sure sign water is leaking through the roof and maybe causing further unseen damage. Stagnant water in places like inside your walls, under the floor or in the attic will lead to mold or mildew. Damage from water also weakens the structure of your home and can ruin sheetrock walls. Allow our team to visit and we will find the leak in your roof, give you an affordable quote and permanently repair your roof to avoid very expensive repairs inside your home.
*NOT INCLUDING REAL ESTATE INSPECTIONS FOR THE PURPOSE OF BUYING OR SELLING YOUR HOME.
ROOFERS NEAR ME IN PEORIA, AZ
"Roofers Near Me" is most commonly searched by homeowners in Peoria, AZ looking for professional roofing companies near their location. Right Way Roofing is a professional roofing company offering affordable roof repair services to Peoria, AZ residents and businesses.
ROOFING MAINTENANCE COMPANY
It's important that you inspect your roof every spring and fall. A great time to do this is when you're cleaning your gutters. Keep an eye out for missing, damaged or curling shingles and other signs of wear and tear. It's inexpensive and easy to replace 1 or 2 shingles, or to hire a professional to do it for you. Look for signs of algae or fungus. If your roof is beginning to collect moss or algae, install lead or zinc control strips. Look for any areas for rust. If its present, take a wire brush to the rust, then you can prime and paint the surface. Check the flashing to make sure it is solid. If it's not, remove all of the old caulking and scrub the area clean before you reseal. Seal any cracked caulking or mortar around chimneys and joints, if it appears to be degrading.
ROOFING FREQUENTLY ASKED QUESTIONS
MY ROOF IS LEAKING IS IT COVERED BY INSURANCE?
Roof repairs in most cases can be covered by insurance. For example, if the monsoon winds remove some tiles from your roof, most likely insurance will cover the cost.
IS WATER DAMAGE FROM A LEAKING ROOF COVERED BY HOMEOWNERS INSURANCE?
Water damage from leaking roofs is covered by homeowners insurance. But insurance will not cover damage if the leak was deemed to be "preventable" or was caused by poor roof maintenance.
HOW MUCH DOES ROOF REPAIR COST IN PEORIA, AZ?
Peoria, AZ roof repair can cost you anywhere from $150 for minor roof repairs, all the way up to $3,000 for major roof repairs.
MINOR ROOF REPAIR COST IN PEORIA, AZ: $150 TO $400
MODERATE ROOF REPAIR COST IN PEORIA, AZ: $400 TO $1,000 FOR MODERATE REPAIRS
MAJOR ROOF REPAIR COST IN PEORIA, AZ: $1,000 TO $3,000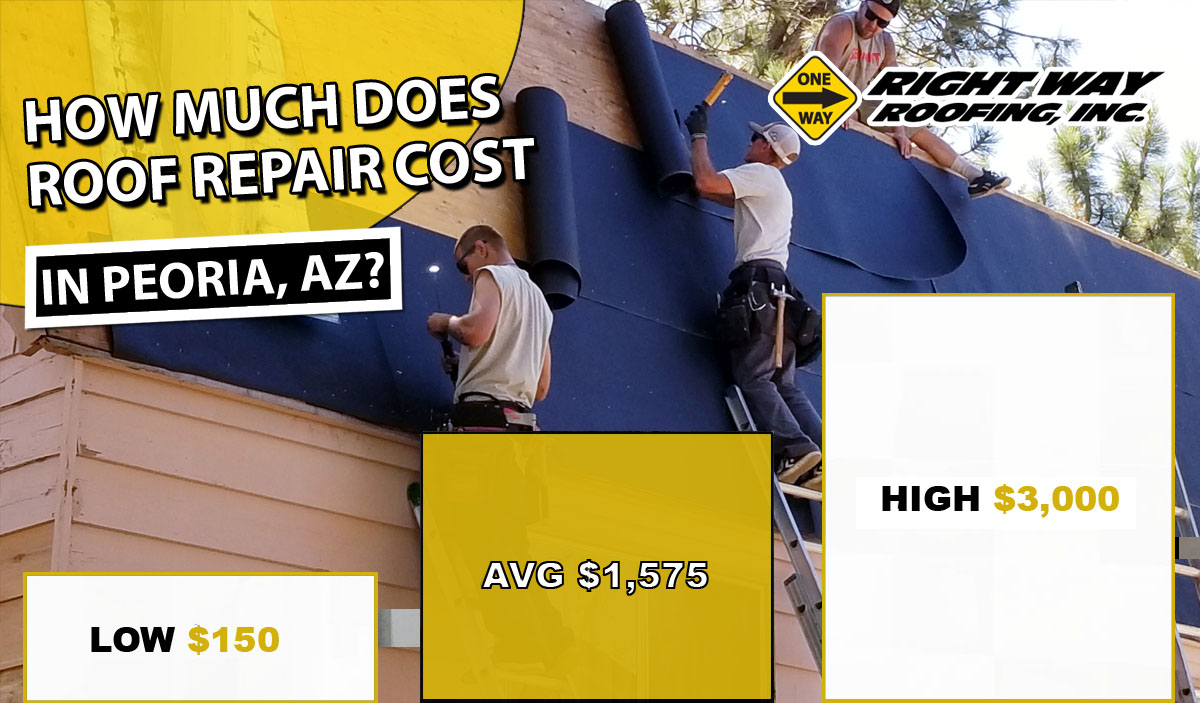 WARNING SIGNS OF ROOF PROBLEMS THAT NEED REPAIR
SHINGLE CURLING – Over time older roof shingles begin to curl making them susceptible to ice and wind damage. This is especially import to know because moisture from the water can build-up in your attic on the other side of the shingles causing internal roof damage. We can repair your broken shingles or replace them if needed.
BROKEN ROOF SHINGLES – If your roof shingles are broken they allow entry point for water, especially for roofs who have lower slopes and slower water runoff times. Even if your shingles aren't completely broken and only have mission or torn tabs still puts your roof at risk.
BARE SPOTS – The surface of shingles wears off over time leaving bare spots where the granules used to be leaving behind bare spots on your shingle accompanied by granules in your gutters.
UNDERLAYMENT PROBLEMS – Underlayment is the layer between your roof decking and your shingles, tile, slate, or any other kind of roofing. If it's damaged it will lead to leaks and water in your home.
ALL YOU NEED TO KNOW ABOUT TILE ROOFING
CLICK HERE TO LEARN ABOUT SHINGLE ROOFS
WATCH TO LEARN ABOUT RIGHT WAY'S FOAM ROOFING
LEARN ABOUT HIRING A ROOFING CONTRACTOR
WHAT YOU SHOULD KNOW WHEN HIRING A CONTRACTOR
QUICK TIPS ABOUT TILE UNDERLAYMENT
LEARN HOW TO PREPARE FOR MONSOON SEASON
IS MY ROOF LEAKING? WHAT YOU SHOULD DO
RIGHT WAY ROOFING LEADS THE COMPETITION IN COMMERCIAL AND RESIDENTIAL ROOFING WITH MANY AWARDS AND YEARS OF SUCCESS IN DELIVERING QUALITY AND DEPENDABLE SERVICE.
Our team at Right Way is highly experience and skilled and will make sure and do the project the "Right Way" the first time around. From small repairs like shingle replacements to complete roof installations or re-roofs.
RIGHT WAY ROOFING IS A RESIDENTIAL AND COMMERCIAL ROOFING CONTRACTOR LOCATED IN PHOENIX ARIZONA
Call us TODAY! East Valley: 480-232-5458 or West Valley: 602-299-8851