FLAT ROOF REPAIR | CHANDLER
FLAT ROOFS BY RIGHT WAY ROOFING, INC.
PROUDLY SERVING CHANDLER, AZ AND VALLEY WIDE
AT RIGHT WAY ROOFING INC. WE PROVIDE FLAT ROOF REPAIR, FLAT ROOF REPLACEMENT AND FLAT ROOF INSTALLATIONS.
When you're searching "Flat Roof Repair Chandler" Right Way Roofing, Inc. is your local family owned and operated professional roofing company. We have been installing, repairing, and replacing roofing for Arizona residents for 3 generations and get it done the Right Way the first time, every time.  Flat roofs are common on both commercial buildings and residential homes and we offer flat roof repair for both.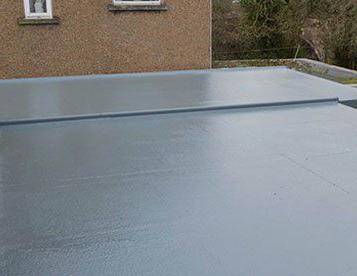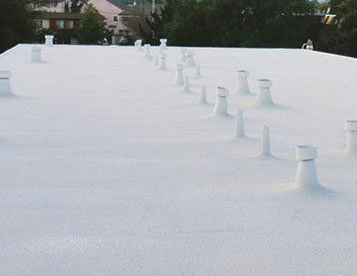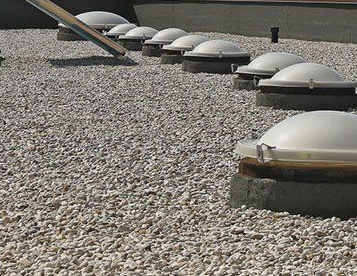 Common keywords used to find our flat roof repair service include: flat roof repair, flat roof leak repair, flat roofing company near me, how to repair a flat roof, and flat roof repair costs. We provide all types of flat roof repair services to help get your roof back in great condition. See below for our list of repair services.
DOES YOUR FLAT ROOF HAVE LEAKS OR DAMAGE?
While Chandler can go months without rain the storms do come with incredible winds and torrential rain.  The incredible heat during our summers wears at roofing materials which degrades them and leaves your home vulnerable to the storms.  When the rain and wind comes it tests your roof and weaknesses are exposed. Even falling debris like tree branches or limbs can cause significant damage.  If you've noticed water in your home, call us. We will find the problem, quote you affordable repair, and provide the highest quality, longest lasting flat roof repair available.
POLYURETHANE FOAM ROOF PROBLEMS
A lot of structures in Chandler have foam roofing. Polyurethane foam is one of the most common types of foam used for flat roofing. Wear and time will break down the foam polyurethane which leads to water penetration and leaks. The acrylic top coating is what does the work of sealing out water and when it goes water will eventually find a way into your home. Falling branches or limbs can also damage your foam roof which renders the watertight seal ineffective and needs repair.
Right Way Roofing's highly trained team of experts offers foam roof install, repair, and replacement. Our services are designed to find the most cost effective solution and put your roof back in water tight condition as you need it to be.
MODIFIED BITUMEN ROOF PROBLEMS
Modified bitumen roofing is similar to BUR roofing in that both options include felt and bitumen layers. The difference is that modified bitumen arrives at job sites already built from the factory and is not constructed on site. The material is rather laid and fused together to create a water tight seal. The roofing leaks when there are punctures, defects in seams, or if there is blistering in the material.
Our roofing team is highly trained in how to inspect modified bitumen roofing and will find the source of any leaks you have in your roof. Both businesses and residences depend on having water tight roofing and we will help you repair or replace your roofing.
FLAT ROOF INSPECTIONS
When you see water dripping through your ceiling or there are brownish yellow spots you can bet water has found a way into your home. While it is easy to see where the water is coming into one of the rooms in your property finding the spot on the roof where there is a problem can be tricky. Water can run down rafters and won joists. This makes it hard for a lot of homeowners to nail down where the water is getting in, and how to fix it. Our team is trained to inspect the roof to find the area or areas which need repair. Our team finds roof leaks quickly, clearly outlines what needs to be done with affordable repair quotes, and then provides the longest lasting repair solutions available.
POLYURETHANE FOAM ROOF REPAIR
Polyurethane is sprayed precisely onto the roof, where it "foams up" and hardens before a protective coating is applied. Because of its elasticity, foam is remarkably useful for roofs with unusual shapes and/or contours. Foam has a couple of distinct advantages over the other types of flat roofing systems. One example is it helps protect against thermal shock and it can greatly reduce your homes A/C bills.
BUILT-UP ROOF REPAIR
Built-up roofing (also known as BUR) is what a lot people call "hot tar roofing." As a centuries-old, time-tested roofing process, BURs are made up of 3 or 4 layers of asphalt felts that overlap each other and are then joined together with heated asphalt. Built up roofs need be protected from the elements and foot traffic by some sort of surfacing material such as pebbles or small rocks, a mineral granule covered top coating (a cap sheet), a continuous coat of hot asphalt or a specialized reflective coating.
FLAT ROOF REPAIR SERVICES
REPAIRING/REPLACING SHINGLES
REPAIRING /REPLACING PLYWOOD
RESEALING SEAMS
REPLACE/REPAIR FLASHING
LEAK REPAIR
SKYLIGHT REPAIR
REAPPLICATION OF ROOF SEALANT
UNDERLAYMENT REPAIR
FLAT ROOFING MATERIALS
FLAT ROOF MEMBRANE
FLAT ROOF RUBBER MEMBRANE
ELASTOMERIC/PLASTOMERIC MEMBRANE
FLUID-APPLIED ROOF MEMBRANE
FLAT ROOF TYPES WE SERVICE
BUILD UP ROOFS OR BUR
SHINGLES ROOFING
MODIFIED BITUMEN
PVC ROOFING
COOL FLAT ROOFING
RUBBER MEMBRANE
SCHEDULE FLAT ROOF REPAIR OR INSTALLATION IN CHANDLER
WE TAKE EVERY PRECAUTION NECESSARY TO PROTECT YOUR PROPERTY DURING THE ROOFING PROCESS AND YOU WILL FIND THAT OUR CREWS DO A GREAT JOB OF CLEANING UP THE WORK AREA EACH DAY.
CONTACT US FOR ANY FLAT ROOF REPAIRS OR INSTALLATIONS IN CHANDLER, AZ AND VALLEY WIDE!
RIGHT WAY ROOFING IS A RESIDENTIAL AND COMMERCIAL ROOFING CONTRACTOR SERVING THE PHOENIX VALLEY
Call us TODAY! East Valley: 480-232-5458 or West Valley: 602-299-8851