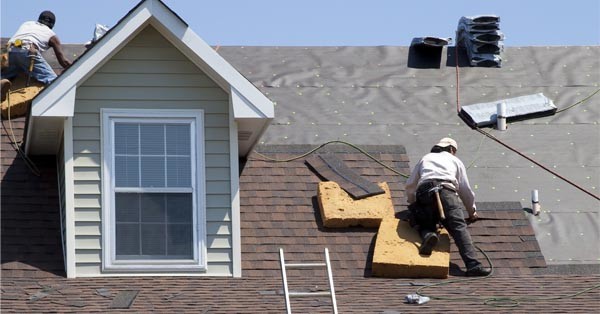 Are you looking to get some work done on your roof? Or maybe you need a new roof entirely? Either way, you need an excellent roofing company by your side. Here's how to find the best roofing company.
For homeowners who have a roof to fix or replace, the biggest challenge is finding the best roofing company to do the job. After a bad storm has left its mark, fixing the damaged roof needs to be done quickly. But that doesn't mean you should just choose the first contractor you come across. It might sound difficult to find a contractor who is honest, trustworthy and reliable. When you as the homeowner knows what to look for, the power is in your hands. Here are the tips you need to find a local roofing contractor that you can count on:
Look For Local Referrals
By looking for local roofing contractors that work within your community, you lessen the risk of potential scams and issues. Someone local is familiar with the regulations and codes in your area. They have likely built a decent reputation within your community as well as a relationship with local suppliers and area crews.
Ask neighbors and local businesses if they have a reliable contractor that they'd recommend. They can share their experiences with nearby contractors, both good and bad, to help you narrow down your options.
Look For Manufacturer Designations To Find The Best Roofing Company
For a contractor to earn manufacturer designations, they have to pass specific minimum requirements and be considered "factory-certified". Many states allow general contractors to work on roofs, but if you want to make sure the job is done right, look for a licensed roofing contractor and ask to see their credentials.
Look For Good Ratings And Reviews
There are some contractors looking for work who keep an ear out for storms in nearby areas and then make their presence known to affected homeowners. It's important to always look a contracting company up on the Better Business Bureau's website and make sure they have a good rating. Be cautious of those who don't have a presence on the website.
If you can't find them on the BBB website, try to find ratings for them on Google reviews or Yelp, though sometimes these reviews can be skewed.
Ask For An Extensive Warranty
Only the best roofing company can offer manufacturer warranties that also include coverage of the contractor's own workmanship. If your contractor ends up installing the roof incorrectly, it could take several months, even years, for the damage to show up, and your insurance won't pay for it.
If your contractor won't fix it, or if they've gone out of business by then, you have to pay for the mistake out of your own pocket.
A good contractor is proud of their work and they will have a warranty to back that up.
Check For Insurance And Proper Licensing
Before you hire a contractor, make sure they have insurance not just for themselves but for all of their employees and subcontractors as well.
They should be able to provide proof of their insurance for validation before you consider them for the job. Not having the right insurance could lead to a possible litigation between you as the homeowner and the contractor if an injury occurs.
Most states require licensing for legitimate contractors, but that won't stop unlicensed contractors from trying to do roofing work in your area. Make sure your contractor shows you a copy of their license to work in your city.
Pay Your Deductible
If a contractor claims that they can take care of your roof repair without having you pay your insurance deductible, beware. This is essentially committing insurance fraud and puts you at risk.
The insurance deductible is always the responsibility of the insured person. The contractor's quote should reflect that and not inflate the estimate to cover any part of the deductible.
Handle Your Own Insurance Claim
The right contractor won't say that they are a "claim specialist" or that they can handle your insurance claim on your behalf. In most states, it's breaking the law for contractors to act on behalf of you as the homeowner when they negotiate an insurance claim.
Contractors who do this are asking for potential legal repercussions and aren't acting in your best interest. As the homeowner, you should handle your own insurance claim.
The Best Roofing Company Will Have Plenty Of Experience
Experience can't be bought or faked, it has to be learned through years of hard work and training. The more experience a roofing contractor has, the better the job they should be able to offer.
Try to find a roofing contractor who has plenty of experience in providing the kind of roofing repair work that you're looking for.
A Free Estimate
Most contractors offer free estimates these days, but make sure before you ask a contractor to come to your home to give you a quote. The idea is that you should be able to compare different quotes between contractors without acquiring added costs.
Won't Put The Pressure On
The right contractor won't pressure you to sign any contract before your insurance company has been able to estimate the damage totals. Though some contractors claim they can work with whatever amount your insurance company settles on, you need to make sure it's the right amount, not just any amount.
Your contractor should also examine your home and make sure that no damage was missed in the quote before they proceed.
Offers You Options
A trustworthy contractor should offer you different shingle options for your best interest. The style and color of shingles you choose can affect the resale value of your home and if your insurance company is paying for you to have a new roof installed, this might be the perfect time to upgrade to a more unique style.
Your roofing contractor can help you with this process.
Rely On Us
For the best roofing company, turn to the experts at Right Way Roofing. We handle all residential roofing and commercial roofing needs and do our job with pride and efficiency.
Visit our website to learn more about our services and contact us to schedule your free quote today.