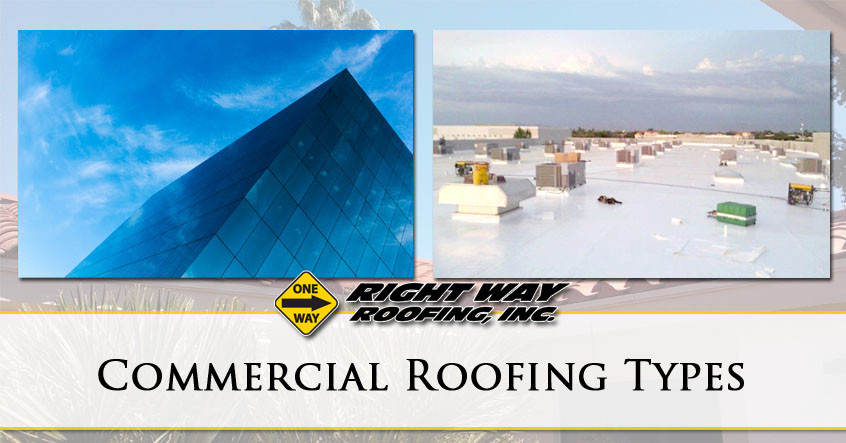 If you own a commercial building keeping the roof in good condition is important for protecting the value of the building. Water leaks will cause expensive damages to the interior of your building and put at risk the goods or raw materials you have stored. There are a number of long lasting commercial roofing types which are great for commercial properties in the Phoenix Valley.

Commercial Roofing Types
There are a number of commercial roofing types which include EPDM, Thermoplastic, Green Roofs, Solar Panel, BUR & Modified Bitumen. Read more about each type of commercial roofing below.
EPDM Roofing
EPDM roofing is one of the longest lasting types of commercial roofs. It is as versatile as it is durable, so it can be used in a wide variety of commercial roof applications. Best of all EPDM is usually more simple to install, keep in good condition, and repair than some of the other commercial roofing options.
Thermoplastic Roofing
Thermoplastic roofing, or TPO roofing, is one of today's fastest most popular and fastest growing commercial roofing types. The thermoplastic material tolerates high heat, low temperatures, and resists damage due to chemical exposure, UV, and ozone. In addition to that TPO resists high winds, fire, and punctures.
Green Roofs
One of the newest and most exciting types of commercial roofing is green roofing. It consists of flat roofs which either partially or completely covered with soil and vegetation.  A waterproof membrane is installed before the vegetation layer is installed to ensure the roof is watertight. One of the largest benefits of green roofing is that it improves your building's roof insulation and helps cut down on urban heat island effects. Green roofing can last double or more the time as traditional commercial roofing and has the added benefit of helping reduce cooling and heating costs.
Solar Panels
For more and more property owners the real potential of solar panels is being recognized. Electricity isn't getting cheaper so savvy commercial property owners are investing in solar and even some municipal buildings are requiring renewable energy technology to be built into every location. Solar panels are typically installed on top of a membrane, glass or roof mounted tile roofing.  The solar solution turns the energy from the sun into electricity for use in our homes. Newer solar products such as solar roofing tiles are available, yet not widely in use.
BUR & Modified Bitumen
In addition to the commercial roofing options, we have listed some of the older traditional types are BUR and modified bitumen roofing. BUR roofing, or built-up roofing, is fabricated directly on the roof by layering rubber membranes. These interlocked layers provide the weather resistant surface for your building. Modified bitumen is similar to BUR.  The difference is that it is fabricated into layers at the factory and then delivered to distributors and installers.  It is then put on the roof and the seams are fused together.
Phoenix Valley Commercial Roofing
rd
generation of operation in the Phoenix Valley installing, maintaining, and replacing
commercial roofing
. We install all of the top quality commercial roofing options in Phoenix and understand the unique challenges property owners are facing in the Valley of the Sun.  With high heat and arid conditions, your roofing choice needs to be good for high heat and still be ready for a downpour.