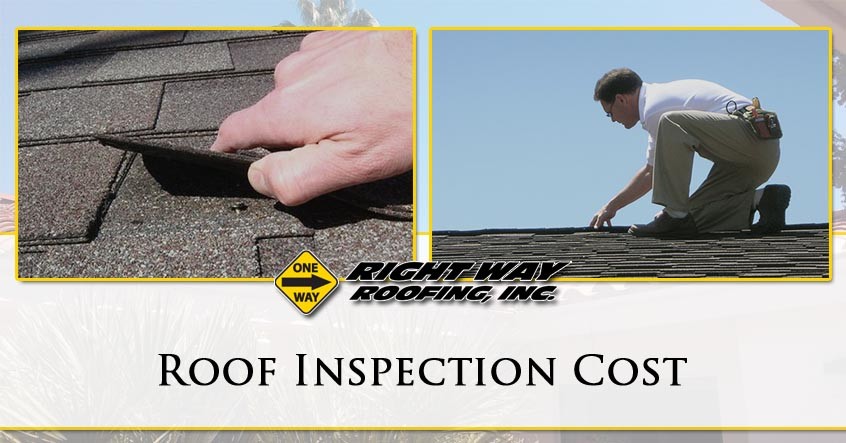 If you're searching for "Roof Inspection Cost" you're one of hundreds of Americans searching for that phrase every day.  A roof inspection helps ensure that one of the most important elements of your home is in tip top shape.
Average Roof Inspection Cost
The national average for a roof inspection is $617.  This is an inspection done by a certified roof inspector.  A roof inspection cost in Phoenix averages at about $160.  The roof inspection will cover soffits and fascia, gutters and downspouts, missing shingles, damaged flashings, and rooftop vents.
Right Way Roofing offers $FREE roofing inspections in the Phoenix Valley*.  Our team is a family owned and operated roofing company now in its 3rd generation of taking care of homes in the state of Arizona.  We offer free roofing inspections to help ensure our friends and neighbors in the valley have roofs they can rely on.
How Much Does A Roof Inspection Cost?
Roof inspections are typically done by a calculation based on square footage, flat rate, or free.  For roofing companies that charge to do roofing inspections multi-level roofs, or those that are steep may cost more.  Some roof inspectors are also employing the use of drones to inspect elements of the roof.
The cost of roof inspection will also vary depending on travel time.  If your property that needs to be inspected is outside of the city or normal service area for your inspector, there can be an extra charge of about $60.
What Does A Roof Inspector Look At?
Typical roof inspections include examining the underlayment, drip-edge flashing, counter flashings, and shingles to make sure they were all install correctly and are in good condition.  All these elements play into if your roof is water tight.  The inspector is also likely to get into your attic to check the underside of the roof, which is called the "decking".  They keep a training eye out for any signs of water leak inside your roof.
Types Of Roof Inspections
There are different reasons people call for roof inspections.  They may have had leaks during the last rainstorm, many just want the peace of mind knowing that the roof is in good condition, and others may be getting ready to buy or sell a house.
There are also special roof inspections that focus on finding heat leaks around the roof.  These special inspections are done using infrared cameras to "see" the heat leaking through the roof.  In hot areas that rely on round the clock AC during the summer these leaks can add up to a huge impact on utility bills.  In cases where there is significant air leaks repairs are recommended and insulation installation is recommended.
Free Roof Inspections
Right Way Roofing offers free roof inspections* to Phoenix valley homeowners.  Our team will come and inspect your roof to help prevent leaks.  Preventing leaks in your roof keeps your home, and its contents, in good condition.  Water damage in your home causes costly repairs and can lead to hidden mold inside insulation, walls, and hard to see places.
*Free Inspections do not include Real Estate Inspections for the purpose of buying or selling your home.