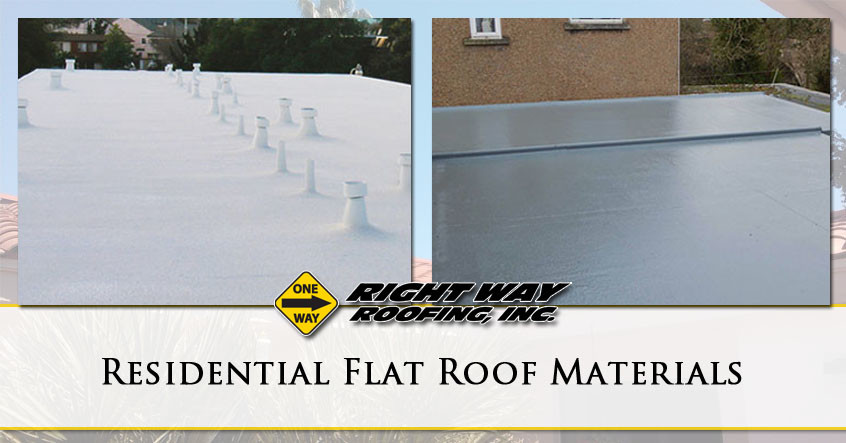 There are 4 main types of residential flat roof materials; modified bitumen, built-up roofing, rubber membrane, and spray-on roofing.  Flat roofing differs from traditional roofing used on sloped roof homes.  While you could nail a ton of shingles to a flat roof, you're guaranteed a leak!
Modified Bitumen
Modified bitumen has the advantage of being comprised of multiple layers of roofing material.  This means should work need to be done on your roof, or a branch fall on it, it is more resistant to tearing or leaking.  When the roofing is installed a base layer is attached to the roof mechanically first with bars or plates.  An overlap ply is sealed to the base layer with adhesive that is permeant.  Last step is the application of granules to the surface of the roof.  This coating helps with energy efficiency along with giving the roofing a nicer look.  This roofing type will last around 10 to 20 years.
Built-Up Roofing
A built-up roof, or tar & gravel roof as it is also known, is layers of gravel or aggregate and bitumen.  The bitumen is comprised of coal tar, asphalt, or other types of adhesives.  With over 100 years of application built-up roofing is time tested and tough enough for heavy foot traffic.  While these roofs can withstand some pretty hard hits they do come with the need for increased support for the additional weight.  This roofing type will last about 15 to 20 years.
Rubber Membrane
These roofing systems include PVC, EPDM, and TPO roofing.  While they are long lasting they do have the weakness of being susceptible to being torn by collisions or sharp objects.  Should tools fall or a limb from a tree hit your roof the layer will tear, and you will likely get a leak.  Advantages of roofing such as EPDM is lower price of installation.  However, they do come with the draw back of heat absorption which can lead to elevated utility costs. Newer options of these roofing styles may have the addition of highly reflective layers that bounce the heat of the sun away from your home.  This roofing type will last about 15 to 20 years.
Spray-On Roofing
Sprays made of silicone and polyurethane, are growing in popularity as they offer a completely seamless roofing option along with potential savings on utilities.  Spray foam roofing offers insulating properties and either option of spray-on roofing when installed correctly can reflect light and heat.  While it may seem like applying a spray-on roofing system should be a job anyone can do; achieving an even and adequate layer takes training and practice.  Spray-on roofing types will last up to 20 years.
How Much Does Flat Roofing Replacement Cost?
To replace flat roofing the average cost is between $7,000 and $11,000 dollars for a roof that's about 1,500 square feet.  Costs vary by how involved the removal of old roofing is and which flat roofing option you choose from your home.
How To Make Flat Roofing Last
It's up to a property owner to regularly maintain flat roofing.  By either doing regular inspections and maintenance or by having it done by professionals.  In any case a checklist of items must be followed to help the roofing last as long as it can.  Your flat roof should be inspected at least once a year and if you've had any major storms.  If you're going to do inspections yourself make sure to wait until at least 2 days after storms for your roof to dry.
Sweep off all leaves and other debris to check for areas water might be pooling.
Inspect your roof flashings that are installed at skylights and chimneys.
Check the top layer of your roofing system. Ensure the gravel is even and there's no bald spots.
Inspect your roof for problems with the membrane such as tears, punctures, or holes.
If you've noticed rusty flashings, missing gravel cover, or damage to the roof it will need to be repaired as soon as possible.  Your roof plays a vital role in keeping your home dry and avoiding mold growing in the attic, walls, and flooring.  Many serious respiratory and health conditions can be caused by mold.
Why Do We Have Flat Roofs?
You might be asking yourself why we install flat roofs when sloped roofs are naturally less likely to leak.  There are a couple of reasons an architect, homeowner, or contractor may recommend a flat roof for a property.  These reasons include convenience but also aesthetic presentation.
One example is if you're doing a home addition and don't want to put another pitched roof over this section of the house that clashes with the rest of the design.  In a commercial setting flat roofs are preferred as there is likely a need for frequent maintenance on the roof to work on communications, HVAC systems, and other types of work done on the roof.
Residential Flat Roofing Services
If you have a property in Mesa or anywhere in the Phoenix Valley; Right Way Roofing can install, repair, or replace your flat roofing.  We are a local family owned and operated roofing company who's been service the valley for 3 generations.  When you want it done right, you call Right Way Roofing for all of your flat roof repair needs.
Call us today for all of your flat roof needs
480-232-5458  East/Mesa – 602-299-8851  West/Phoenix